Beware of the following sites that are NOT authorized to sell our products: ibeautycity, OliveTips and GladlyBeauty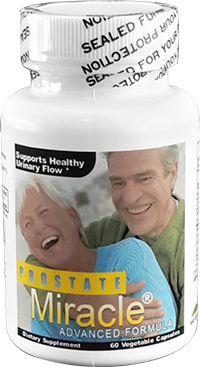 Prostate Miracle® Advanced Formula: Supplement Facts
Not All Beta Sitosterol Is Created Equally.
Beta Sitosterol is found in nearly every vegetable we eat, as well in many herbs such as saw palmetto, stinging nettles, pumpkin seeds etc. However, the concentration in these sources is very low. For over 20 years, extracted beta sitosterol has been used, as a much more potent concentrated source than any of the above mentioned herbs. These days, a wide range of beta sitosterol quality, purity and potency are available.
There is a great deal of confusion, regarding the terms: phytosterols, phytosterol complex, beta sitosterol and beta sitosterol complex. Much of this confusion is propagated by some of new prostate formula companies, who misuse these terms in order to misrepresent their formulas as being "stronger".
NON GMO Pine Extracted Beta Sitosterol
It turns out that the best source for a high quality beta sitosterol extract is pine. Recent technological advances have led to effective methods for extracting a very pure phytosterol complex from pine, which has a very high concentration of beta sitosterol. It is an expensive process and is not done in the USA, but rather in Europe (where the use of GMO's are banned). Having to import it, makes it an even more expensive raw material. It is however, FAR superior to the Chinese and even the USA produced soy extracts, because not only is it more pure and more potent, but also GMO free as well!
Even amongst the pine extracted phytosterols, there are different qualities available. Prostate Miracle® Advanced Formula uses the highest quality phytosterol complex available. Each daily dosage of Prostate Miracle® provides a 600mg of GMO free, pine based, phytosterol complex (imported from France), guaranteed to be 99% pure and contain NOT less than 70% beta sitosterol.
What is Saw Palmetto?
Saw palmetto (also known as Serenoa Repens) is a low-growing, small palm tree with fanlike, fingery fronds and small berry-shaped fruits. Saw palmetto is native to and grows exclusively in the USA . . . primarily in Florida and near by vicinities.
Saw palmetto berries mainly consist of carbohydrates, phytosterols, fixed oils (free fatty acids and their glycerides), steroids, flavonoids, resin, pigment, tannin, and volatile oil. Native Americans, such as Seminole Indians have been eating saw palmetto fruits for at least 12,000 years. Despite their pungent taste . . . these Indians recognize saw palmetto fruits as both a food and health support.
Prostate Miracle® Advanced Formula
contains 3,000 times more beta sitosterol

than Saw Palmetto.
Saw Palmetto and Pygeum Africanum
are both worthless.
In a recent article, "natural healing research guru", Roger Mason says "For years now I've been explaining why saw palmetto, pygeum africanum, stinging nettles, pumpkin seeds and other similar herbs are useless, have no therapeutic effect, do not help prostate health in any way and are mere promotional scams. Yet, men keep buying countless millions of dollars worth of saw palmetto and other such worthless products every year.
Saw Palmetto may actually be
Harmful to your Prostate.
Three recent scientific studies, surprisingly indicated that saw palmetto may actually harm your prostate health! These studies, which were investigating the effect of saw palmetto on prostate tissue all came to the same conclusion: Saw palmetto has an effect similar to chemotherapy on prostate cells - it kills both unhealthy and healthy cells!
Lycopene is a Fraud.
Many Prostate Formulas contain lycopene and according to Roger Mason "Lycopene is a fraud, a hoax, a deceit and deception." Nearly every single "study" that has been published on lycopene has simply been a paid advertisement in a journal funded by and paid for by Lyco-Mato in Israel. This isn't science- it is advertising. If lycopene had any value scientists around the world would be using GENERIC lycopene in double blind studies to prove its value.
Selenium and Prostate Health
When was the last time your doctor suggested that you supplement with selenium in an effort to prevent cancer?
Probably never . . . But did you know that researchers have been studying the plausibility of such a suggestion?
Scientists know that this trace mineral has some extraordinary properties and have been aggressively investigating it's health supporting potential. Research is currently being conducted to see if selenium might have any impact on the risk of getting prostate cancers and other conditions involving oxidative stress and inflammation.
Doctors assume that we get enough selenium through plant foods. Unfortunately, in many places in America and the rest of the world, including China and Russia, the soil is badly depleted of its selenium content because of acid rain, which can dramatically change the chemical composition of the soil. As a result, soil acidification alters the ability of the soil to bind with vital elements such as selenium for assimilation into edible plants.
Selenium has unique biochemical properties
Selenium Chelates versus
Selenium Glycinate Complex
There is a great deal of confusion regarding selenium chelation. Many raw material suppliers provide, what they call a "selenium amino acid chelate", but that term is actually a misnomer. In order to clarify this often misunderstood subject, it is first necessary to understand chelation in general.
Zinc and Prostate Health
The concentration of zinc in the prostate is higher than that in ANY other soft tissue in the body. This naturally occurring high concentration suggests that zinc may play a role in prostate health.
It is well known that neoplastic diseases, inflammatory diseases, infections and other stresses lead to changes in zinc metabolism, which results in lower blood serum zinc levels in general and lower zinc prostate levels in particular.
Men with prostatitis typically have 90% lower zinc levels in their prostate than men without prostatitis.
Men with prostate cancer typically have 83% lower zinc levels in their prostate than men without prostate cancer.
Men with BPH typically have 61% lower zinc levels in their prostate than men without BPH.
A growing body of evidence supports the notion that high zinc levels are essential for prostate health. The possible mechanisms include the effects of zinc on the inhibition of terminal oxidation, induction of mitochondrial apoptogenesis and suppression of NF-kappaB activity. Zinc may also play an important role in the maintenance of DNA integrity in normal prostate epithelial cells by modulating DNA repair of damaged response proteins, especially p53. In addition, recent findings support the role of the ZIP1 zinc transporter protein, as a tumor suppressor in the prostate.
Vitamin D3 and Prostate Health
A new study published by the journal Clinical Cancer Research (May 2014), suggests that low blood levels of vitamin D may be linked to more aggressive and advanced cases of prostate cancer. The study suggests that vitamin D may play an important role in how prostate cancer starts and spreads, although it does not prove a cause-and-effect relationship. Researchers aren't yet sure exactly how it comes into play or even if taking extra vitamin D might keep prostate cancer in check.
"We really don't know, for certain, what role vitamin D plays in cancer . . . either the genesis or beginning of cancer . . . or in defining how aggressive the cancer may be," he said. "Further research has to be done."
What is known is that vitamin D plays several critical roles in how cells develop and grow.
"It seems to regulate normal differentiation of cells as they change from stem cells to adult cells. And it regulates the growth rate of normal cells and cancer cells." said study author Dr. Adam Murphy, an assistant professor of urology at Northwestern University's Feinberg School of Medicine, in Chicago.
Vitamin D is also known as the "sunshine vitamin" because skin makes it when exposed to sunlight. Vitamin D levels tend to drop with advancing age, and deficiency is more common in seasons and regions that get less sunlight and in people with darker skin, which naturally blocks the sun.
What about the vitamin's possible relationship to cancer?
"When you squirt vitamin D on prostate cells in a petri dish, their rate of growth slows down," Murphy said.
The Prostate Miracle® Difference
Each capsule of Prostate Miracle®Advanced Formula contains: a whopping 300 mg of

Beta-Sitosterol

, 7.5 mg of

Zinc

, 35 mcg of

Selenium

and 1,000 iu's of

Vitamin D3

.
Each bottle of Prostate Miracle® Advanced Formula contains 60 vegetable capsules . . . providing 18,000 mg of Beta Sitosterol per bottle.
Prostate Miracle® Advanced Formula contains the highest quality Beta Sitosterol available. The suggested daily dosage provides 600 mg of

GMO free, pine based

, phytosterol complex (imported from France),guaranteed to be

99% pure

and contain NOT less than

70% beta sitosterol

.
Prostate Miracle® Advanced Formula is produced in

GMP certified labs

(in the USA) and distributed by Nature's Health Supply, Inc.® (a company trusted by hundreds of thousands since 2001).
When you consider that Prostate Miracle® Advanced Formula is

priced lower

than most of these others . . .There is just no other product that comes close to it's

quality and value!
Prostate Miracle® Advanced Formula
has a Money Back Guarantee
Look at any other Prostate Formula out there and ask yourself:
How much Beta Sitosterol does it contain per capsule?
What is the purity and potency of the ingredients?
How many capsules does each bottle contain?
How much Beta Sitosterol does it contain per bottle?
What is the cost per bottle?
Once you have done the math . . . you will know that there is no other product that comes close in comparison to the long term prostate support, safety and value of Prostate Miracle® Advanced Formula.
We Guarantee it!!
Prostate Miracle® Advanced Formula offers this guarantee:
We guarantee that within 60 days (two bottles), Prostate Miracle® Advanced Formula will provide significant support for the health of your prostate. If it does not . . . just send the two empty bottles back and we will issue a 100% refund (less the cost of shipping).
Other Products Available from: NHS Global Distributors, Inc.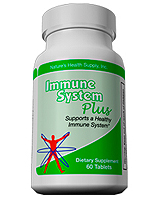 An immune system support formula based on Beta Glutan, which is unsurpassed in it's ability to help support a healthy immune response.
read more